สินค้า
ขนาดเสื้อ (size guide)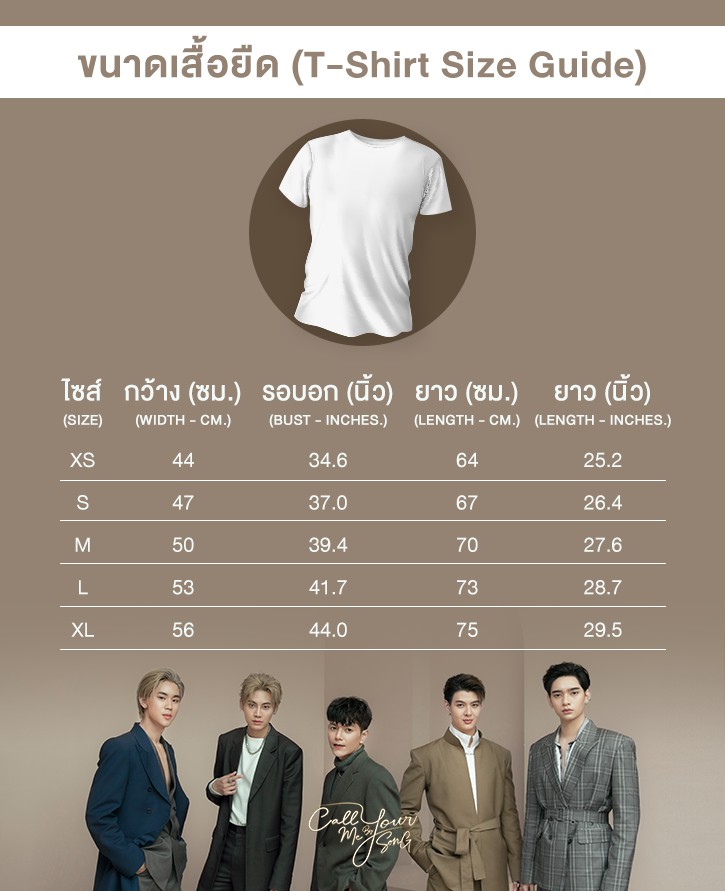 เงื่อนไขการสั่งซื้อสินค้าพรี ออเดอร์
- เปิดจำหน่ายตั้งแต่วันที่ 1 กันยายน - วันที่ 1 ตุลาคม 2564 เวลา 23:59 น
- เริ่มจัดส่งสินค้า วันพฤหัสบดีที่ 28 ตุลาคม 2564 เป็นต้นไป
- 1 order สามารถซื้อสินค้าได้มากสุด 5000 กรัม
- รับเคลมสินค้าคืนเฉพาะกรณีที่สินค้ามีตำหนิมาจากขั้นตอนการผลิตเท่านั้น เช่น สีสกรีนไม่เรียบร้อย เสื้อเป็นรู โดยส่งอีเมล ระบุชื่อนามสกุล หมายเลขการสั่งซื้อ ที่อยู่จัดส่ง พร้อมแนบรูปถ่ายสินค้าที่มีตำหนิ มาที่ cs@thaiticketmajor.com
- ไม่สามารถขอเปลี่ยน size เสื้อได้ หากทำการสั่งซื้อสำเร็จแล้ว
Condition
- Available from September 1 - October 1, 2021.
- Shipping starts from 28 October 2021 onwards.
- Maximum 5000 gram per order.
- If the product is defective such as the screen color is not complete, the shirt has holes can be sent back to change by sent e-mail with pictures of defective products. Inform order number, name and address to e-mail cs@thaiticketmajor.com
- Unable to request to change the size if the order is successful.